Więcej informacji
Zalecamy dokonać rejestracji w nowo utworzonym sklepie, gdyż poprzednia wersja po pewnym czasie będzie niedostępna. Co więcej nie jest ona już aktualizowana!
Do poprzedniej wersji sklepu można zalogować się dotychczasowymi danymi. Aby dokonać zakupów w nowym sklepie należy ponownie zarejestrować się mimo posiadania konta w poprzedniej wersji sklepu.
W chwili obecnej mogą państwo składać zamówienia w obu wersjach sklepu.
UWAGA
Znajdujesz się na nowo zmodernizowanej stronie sklepu internetowego firmy P.P.U.H. Lampcar Grzegosz Szopik.
W celu dokonania zakupów prosimy o rejestrację w serwisie.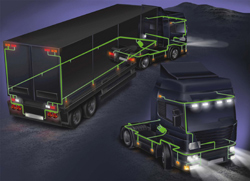 We would like to introduce a Polish company Lampcar. The company is family business which was created in 1996r. Over ten years experience in the motorization market makes it possible for us to supply supreme quality products, confirmed by licenses and certificates, for our customers
Lampcar is a supplier of lights, reflections & electrical systems for tracks & trailers. From rear combination-, side marker-, end outline marker- and position lamps of all types to registration plate and interior lamps. With the group of spot-, fog- and work lamps as well as rotating beacons and lightbars, all requirements are fulfilled.
Our various designs and types of wired lighting systems reduce maintenance costs and are easy to install. Reflex reflectors and a wide range of accessories complete the range.
Our products are provided to Germany, Austria, and Russia's markets. We constantly develop our assortment. We take care of high quality of products & good service. Prices of our products are competitive.
...